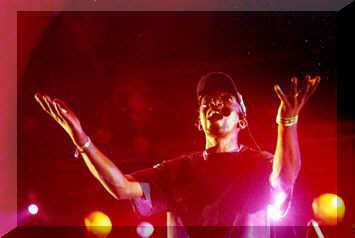 BLOOD SHANTI:DRUMMER & LEAD VOCALS
SAMARI:PERCUSSION & BACKING VOCALS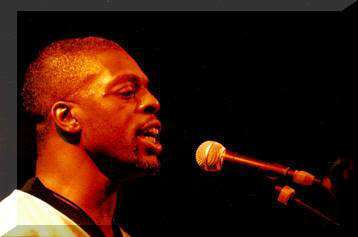 HORACE BURKE:KEYBOARDS & BACKING VOCALS
I have been involved in the composition and performance of music since 1974. 
I took part in my first concert at Woodberry Down secondary school, singing solo to songs like:- 
'House Of The Rising Sun', 'Let It Be' and 'Midnight Rider'. 

Towards the later part of my secondary education, I became a member of the school band, playing 
keyboards. 
We played a variety of musical styles but mainly 'Reggae'.
Upon leaving school, my style of keyboard playing developed and I became known for my shuffling. 
I joined the group 'Casanova' and once again I was the main keyboard player, playing reggae, more 
specifically 'Lovers Rock'. 

As the years went by I joined a variety of groups playing keyboards and singing backing vocals. 
With the exception of 'T.R.S.', I have always played reggae and its derivatives.
In addition, throughout this time I have been writing and composing for various artists such as:- 
Sandra Reid, Winsome, Louisa Marks, Crucial Robbie, Anthony Brightly, Trevor Hartley and 
Nerious Joseph.





THE ROCK:BASS
As the lastest recruit to the 'Shanti-Ites' rhythm section 'The Rock' brings with him a wealth 
of experience.

A native of Montserrat,'The Rock' has been playing bass guitar for as long as he can remember.
Musical influences abounded as 'The Rock' was growing up, most notably in his own home from his
older brothers, Rugag & Flasher; both accomplished musicians.

He has a quiet unassuming and understated personality and a mellow vibe.

He has worked in bands all over the world providing his trademark 'Rock Solid Foundation' bass lines
(now you know how he got his name) and now he is working with us to promote the 'Shanti' vibe.

NB: When Blood first went to meet 'The Rock' he went to his home.The Rock was in the kitchen
making himself something to eat and playing his bass as the food was cooking, and this was not for 
Blood's benefit, as The Rock is never without his bass.Even if it isn't plugged in he is still playing it as 
if it was.
We say "WELCOME THE ROCK" and be prepared to for his bass to vibrate your soul.




STEVE PRINCE:KEYBOARDS & BACKING VOCALS
In 1982 Steve started his career as lead singer in a 'Lovers Rock' outfit called 'Casanova'.
In 1983 they put out their first 12" single.
The band split in 1985 and Steve went his own way for a time playing drums,keyboards and 
backing vocals for artists like the late Phil Lynot of Thin Lizzy and Bucks Fizz.

In the 'Soul' & 'Reggae' world, Steve has worked with artists like:- 
Louisa Marks, Winsome, Levi Judah, Mel Bell of Soul 2 Soul, Wayne Marshall & Wendy Walker.

Steve has produced and released a number of singles over the years with a few independent 
recording companies. 
It has been a hard road but Steve's determination has seen him through.








COLIN .A. MARCLAND:TRUMPET. FLUGELHORN, VALVE TROMBONE.
Colin's background and knowledge of music is as diverse as his playing.
Born and raise in south London. His family moved to the Midlands while he was still young
to enable Colin to pursue a career in football.
This career was cut short due to tragic injury received while competing.
He then turned his energies to his hobby, music, which he decided to pursue more seriously.
Beginning with classes at college and later studying with private tutors.

Colin's music career progressed to performing in big band (Midland's Youth Jazz Orchestra)
and local jazz combo's.
Colin has a very solid and distinguised musical pedigree working with amongst others:
Incognito, D'swing, Denis Alcapone, Bitty Mclean, Steel Pulse, Chaka Demus & Pliers,
Gabrielle,Juliet Roberts, Texas, Bob Geldof, Jack Radics, Chris Ballin, Sly & Robbie, 
Pato Banton,UB40,Stan Campbell, The Beat, and many more.
Colin has toured all over the world as a musician, acquiring new skills along the way.

As part of 'The Joshua Horns' Colin adds a dimension to 'The Shanti-Ites' sound which has 
yet to be fully explored.



DIGI-STEP:SAXOPHONE, MELODICA. IF YOU CAN BLOW IT, HE CAN PLAY IT
Digisteppa: Get him in the mood for stepping and some fancy ninja footwork will explain the name.
At 23 the 'yout' of the band is known mainly as a vibesman on sax or melodica,
(Pablo meets Tommy McCook).

Originally from Bristol in the south-west of England with a Brazilian background, he has played for
artists such as:'Vivian Jones, Frankie Paul, Aba-Shanti, Roots Ambassadors and Deliverance'.
Also a producer in his own right under the alias of 'Dubchasm', he has worked with:
'Tena Stelin, Lidj Inc, Ras Natural (I & I Oneness), Ras Addis and Ras Umi', to name but a few.

Digi grew up with the music of the likes of :Burning Spear, Black Uhuru, Scientist, King Tubby and
Lee Scratch Perry' fuelling his musical education.
He had his first commercial release at the age of 17 on the Bristol produced roots LP 'Dub Out West'.
His dubplates started to be played by sound systems such as Aba -Shanti, Jah Shaka, Jah Trinity and 
Roots Spot Crew'.
It was through becoming bredrin with Aba that he was introduced to the band of musicians that were to
become the 'Shanti-Ites '. Linking him with Colin on trumpet they became 'The Joshua Horns'.

Digi extends his 'One Love' vibe by teaching young children, many with special educational needs,
saxophone. He typifies the ethos of Falasha Recordings and The Shanti-Ites in wanting to spread 
"Love and Inity. Promoting peace and overstanding amongst all of Jah's people regardless of 
race,colour,creed, gender or abilities.

Digi says: "From when musicians become bredrins, a vibe is created that no money can buy.......
thats the Shanti-Ites vibe!"




FUZZY 'D':SOUND ENGINEER & SO MUCH MORE.
Fuzzy 'D' was born in North London and started his varied musical career at 13, at which
time together with some friends they built a sound system called 'Jah Scorpio' which lasted 
12 years.

Fuzzy progressed from sound systems to live bands. 
He formed a band called 'Mission' in which he played keyboards and sang backing vocals.

In the early eighties to enhance his technical knowledge, he went to study at North London College.
It was whilst there that he and a friend form a promotions company called 'Zak & Dee Productions'.
This company held a talent nights at the 'Lyceum Ballroom' in the Strand and where fledgling talents
were nurtured, including amongst others:
Yazz formerly of 'The Biz', Richie Rich formerly of 'The Street Jammers' and a dance group called 
'Finesse' who went on to become 'The Pasadendas'.

In 1991 he was part of a promotions company called 'High Society' who presented the first ever 
tour by the 'Jones Girls'.
He was instrumental in setting up a pirate radio station called 'LWR' (London Weekend Radio) which 
ran for nine and a half years.
This led to working on a community program for a legal commercial station called 'WNK'.

Fuzzy's biography is as deep as it is long and suffice to say that he is now an integral part of
'The Shanti-Ites' bringing all that experience to full effect in shaping the live sound.
ALL IMAGES AND TEXT COPYRIGHT © Falasha recordings/Christian De Sousa