PROFILE ON DJ STRYDA
"Why do we offer the 'Sufferah's Choice Showcase' to the people? Because roots reggae music is the voice of the poor and the cry of the down trodden."
"Remember,when Jah music hits you feel no pain.So tune in and help release your soul and brain."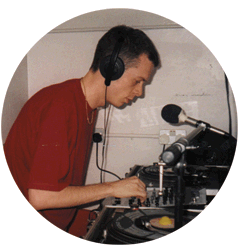 DJ Stryda has been on the FM airwaves in Bristol (South West, England) since he was 18 years old.
The vibes began in 1996 on 'Ragga 105FM 'where Stryda gave us two years of solid roots reggae vibrations.
After having a series of shows on various other Bristol based radio stations Stryda took the vibes to 'Passion 106.2FM' where he has presented his 'Sufferah's Choice Show' right up until this day.
We have come to expect the highest quality of roots reggae selection on the Sufferah's Choice Show'.
Always emphasising the message in the music Stryda has uplifted many people and helped keep roots music alive in Bristol.
He has taken roots on the radio to the highest level, carefully sculpting his two hour show to enable the ultimate vibes to be generated. Exclusive promos, dub-plates, sound tape features, local and international guest interviews have all become main elements of the show.
Also linked with member of the 'Shanti Ites' band, Digi Step (see section-Shanti Ites). Together they make up the partnership known as 'Dubchasm' and will be releasing hardcore roots material to the public in the near future.
| | |
| --- | --- |
| Addis = Left Kama = Right | Back on the FM airwaves Stryda is regularly joined by Kama Dread and Addis and as Bristol's leading Roots Spot trio they have taken the vibes from the airwaves and into the danehall. Playing at London's 'Dub Club' event plus kicking up a storm in Bristol playing alongside various guest sounds such as 'Iration Steppas' at 'Passion FM's' Into 'The Realms Of Dub' events. |
February 2001 saw Stryda depart from these shores. He has flown to Australia to link up with Milton Naphtali outta
'Jah Trinity Sound' (see section-Roots Ambassadors) and together they are spreading roots music 'down under'.
After using this year to travel the world spreading Jah music, Stryda will be returning to his Sufferah's Choice Show' in Bristol and relinking with The Roots Spot Crew ready to explode into the year 2002.
For further information contact DJ Stryda on: 07970 826422 or email: djstryda@hotmail.com.
The 'Sufferah's Choice Show' goes out live every Monday evening in Bristol on 'Passion 106.2FM' between the hours of 8-10pm.

One Love DJ STRYDA

ALL IMAGES AND TEXT COPYRIGHT © Falasha recordings