PROFILE OF SHANDI-I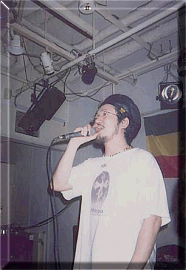 SINGER / SONGWRITER
CURRENT ALBUMS:WORK IN PROGRESS FORTHCOMING SOON
CURRENT SINGLES:REVELATION (Japanese release only)
CURRENT PROJECTS:VARIOUS SINGLES FROM THE FORTHCOMING ALBUM
We first met Shandi-I in the autumn of 1996. He came to a regular dance we used to hold on thursday nights in 'Trendz Nightespot' Stoke Newington London.He came with some friends who together run an emporium in Japan called 'Vibes Collective', especially to buy some of our products for their shop.
Blood Shanti and Shandi-I immediately hit it off and formed a bond that as got stronger as the time as passed.
Shandi-I has a deep feeling for Roots music and it's not a gimmick, for there are too many wolves out there and not many sheep and Shandi-I is truely a lamb of the Father, "There are many among my flock who are not like you" Nuh true!
It was through this bond that Blood and Aba decided to do some recordings featuring the true spirited voice of Shandi-I after hearing some of the productions he had done for Mighty Masa in Japan.
There are English and Japanese versions of the tunes.
Aba has been rinsing out the tunes on dubplate for some time now and they have caused a serious disturbance when they have been played.
Shandi-I is the proof that you should never judge a book by its cover as his collaborations with 'Falasha recordings' will show; so watch out for the new single releases and his album, for you are in for a pleasant surprise.
ALL IMAGES AND TEXT COPYRIGHT © Falasha recordings